4 Channel Class-D Amplifier Module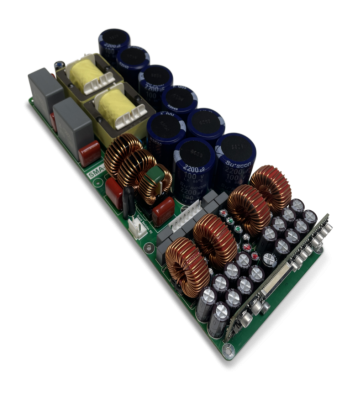 A smarter, faster path to market for multi-way speakers + amplifiers
Turnkey solution with integrated DSP

Up to 3000W on a single 4 ohm channel

Super-compact design

Built-in active PFC

Versatile input configuration
SMA-2 is a four channel amplifier module, providing an OEM solution for multi-way loudspeakers and subwoofers. The highly compact design is capable of delivering up to 3000W on a single 4ohm channel, granting the highest power available for driving all speakers on multi-way systems.

SMA-2 combines a switch mode power supply, two Class-D power amplifiers, a powerful Analog Devices ADAU1462 DSP supported by high performance ESS Technology Analog to Digital and Digital to Analog conversion stages and all the necessary analog circuitry, all on a single, compact PCBA.
The SMA-2 module features APEX's GlidePath direct drive technology. GlidePath is a proprietary Class-D technology where the DSP is an integral part of the amplifier system. Other than one capacitor at the audio input side to protect amplifying DC voltages, the audio signal path traveling through the ADCDSP-DAC-AMPLIFIER is completely DC coupled.

GlidePath direct drive technology delivers major advantages over regular Class-D amplifiers, including significant improvements in cone excursion and transient response. A module equipped with GlidePath will clip later as the peak levels on both sides of the sinus are close to equal. In addition, GlidePath has more output at the initial impulse (+10%) and the cones swing less after the signal stops even at 200Hz (-10% excursion). All these improvements are very clearly audible and result in a cleaner, more powerful low end experience compared to traditional Class-D designs.

The output power for each amplifier channel can be assigned through the software, creating numerous possibilities, from high power bridged submodules to 4 x identical power modules or a combination of different power options.

APEX SMA-2 is a turnkey power amplifier module for OEMs which enables a fast time to market. With its very small size of 100x250mm it fits even the smallest cabinets. SMA-2 features up to 8 preset selections and field firmware updates. The highly efficient double power supply (one PSU for 2 channels) with active PFC allows worldwide input voltage range. Custom printing is offered with a scratch-free polycarbonate overlay.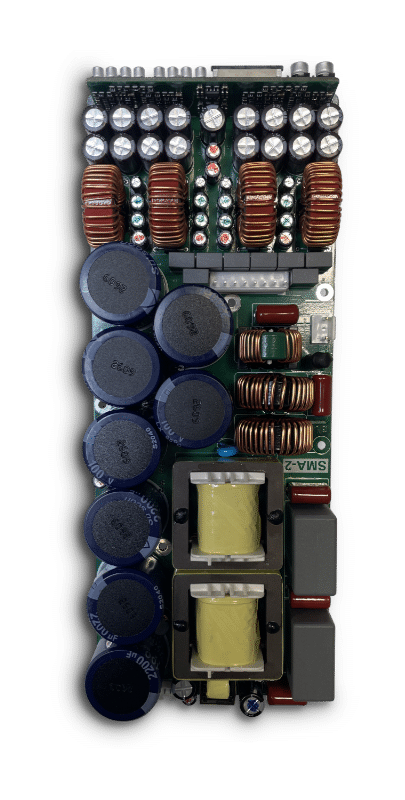 General
Mains Input
Analog Audio Input
Digital Audio Input
Audio Output Channels
Auxiliary Output Voltages
General
| | | |
| --- | --- | --- |
| Operating temperature range | 0 to +50°C | Full load over entire voltage range |
| Isolation | 3000VAC | Class I construction |
| Max. Operational Altitude | < 2000m | |
| Max. Standby Power | < 500mW | Module in Standby mode; User application < 10mW |
| Max. Active Idle Power | < 20W | Amplifier active; Channels not driven |
Mains Input
Analog Audio Input
Digital Audio Input
Audio Output Channels
Auxiliary Output Voltages